Sales & Marketing Collateral
(You know... all the hands-on stuff a company needs
to spread the word about its products and services)

Brochures, Sales Materials, Catalogs, Ad Slicks, Etc.
Here's Some Examples

---

What a Friend
We Have
In Cheeses...

---

Despite whiz-bang technological innovations such as the Internet and multi-media CD Roms, businesses still depend on the well-trained, well-equipped sales force making sales calls armed with leave-behinds and backed up with mailings. Ever it was, and ever it shall be!

Whatever your product or service, the image that potential customers and clients will have of your business depends on the materials you offer. After all, once the sales call is over, what's left behind, passed around, filed and used for reference and purchase are your marketing materials. The right materials can work harder, longer and more effectively than your best salespeople!

Don't leave such an important ingredient of your business' success in the hands of amateurs... don't depend on tired, in-house efforts... and don't waste precious dollars with slick agencies that often forget that selling for you not to you is the name of the game!

specializes in economically creating and producing every kind of sales and marketing tool you can need. We'll work with you to determine how best to stretch your budget to cover all the bases and provide your marketing efforts with flexible and effective materials.

.
---


Click here to see brochure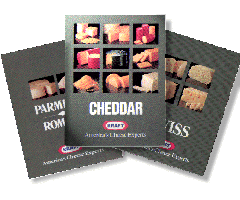 Kraft Foodservice
No one knows more about cheese than Kraft. Their Foodservice salespeople were extensively trained to help restaurant operators maximize profits and maintain recipe quality by offering hundreds of different products and alternatives.
But this information was often too much for a salesperson to be able to efficiently relate during a quick sales call -- and operators didn't quite understand (or trust) why so many options were available.
Rather than creating yet another seasonal promotion piece for a particular cheese type, Temkin & Temkin suggested clear-cut, easy-to-understand primers on each kind of cheese, spelling out the benefits of various alternative products.
Over the course of the year, these pieces could be compiled in a single binder, an "Encyclopedia of Cheese" that Kraft could use to educate their customers. The life of this modular approach was far greater than regular individual sell sheets, yet when changes would become necessary, only the individual brochures needed to be revised.
---


---


Click here to see brochure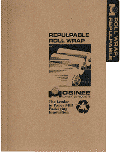 Mosinee Paper Products
Let's be honest: When a client comes to an agency with a product that's newer, cheaper or better than anything else on the market, it's not all that hard to make convincing marketing materials. But, what do you do when a client asks for a brochure on a product that's not really for sale to its customers -- with features and benefits no one has ever asked for?
Mosinee's division responsible for "converting" paper products (turning one form of paper into another i.e., plain paper into coated; big rolls into lots of small rolls) created a product used to wrap rolls of newsprint that was both (fanfare) water resistant and recyclable. They also had a burning need to tell someone about this new Mosinee Roll Wrap, if for no other reason than to point out their conversion capabilities.
Our mission -- and we chose to accept it -- was to create a package of promotional materials to be sent to paper buyers making them aware of this product so that they could specify it as their roll wrap of choice (even though only the paper mills really make that call). Sure, we could have shown how high-tech and forward thinking the company was, with lots of pictures of their plant and equipment. We could have positioned them as the company that cared most about the environment and recycling.
Either way, we still weren't sure we'd get anyone to care about roll wrap -- until, that is, we decided to put the product into people's hands. That's right, instead of a slick 4-color brochure, we used the product itself as a file folder -- which, of course, held a slick 4-color brochure. This was sent with a letter outlining the benefits to the end user of being able to recycle the wrapping all their rolls of paper came in (perhaps the smallest portion of waste a printer produces) as well as the savings offered from having their valuable paper orders protected from water damage.
All this was sent in a plain envelope stamped: "WARNING: Dispose of enclosed contents properly," making this the only direct mail package we have ever produced to purposely cause the recipient to think about disposing the contents.
---